How to choose the form of meal card? What's the most logical way to place meal sticks? How to design the menu layout and printing? HK Design ProWe have compiled some tips and related content for designing and choosing meal cards:
You who clicked this article believe that you are preparing for a major event in your restaurant. Are you worried about the form of the menu? What is the most reasonable way to place the menu? And the question of how to provide your restaurant with sensory good functional table typography and more.
The restaurant menu is usually the first thing that guests notice when they enter the restaurant, so its design in all aspects is very important, if you already know the size, shape and format of your menu, but if you are looking for some design and tips for choosing a menu and related content, then this article is for you. For more information you can go here.
HK Design ProWe provide you with menu printing services with a variety of designs to choose from, including traditional, half-fold, bag-fold, folded, monster door, and more. As for the printing paper, we use 300gsm double red and white card to print CMYK colors and offer four post-processing options: Matte Glue, Gloss Glue, Touch and Line Pressure to confirm product integrity. Texture, adjust the true color of the dish. And grab the customer's attention before they taste the food, so your design can be reflected. 
Next, byHK Design ProProvide you with information about the different styles of the menu. 
1. Takeaway paper/promotional menu
The takeaway paper/promotions menu is the most important menu in any store. Whether it's being stored in store for guests to enjoy or to take out, it's a great service for restaurants. The largest size and paper on the market is 128g glossy A4 tri-fold paper. This is the most used but also the cheapest.
If you want to impress your guests, you can change the shape and fold of the poster, such as half circle, cross fold, etc. Restaurants using advanced methods will use special paper for printing such as textured paper, inspiration paper, butter paper, etc.
Like Figure 1, the creative folding and shape design can achieve unexpected display effects, which can make customers' eyes shine.
Second, the table paper plate
If you want your guests to see the dining sign as soon as they sit down, a paper sign is definitely the best choice for you.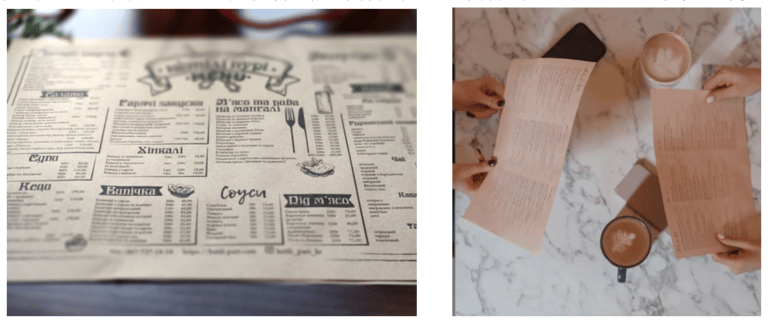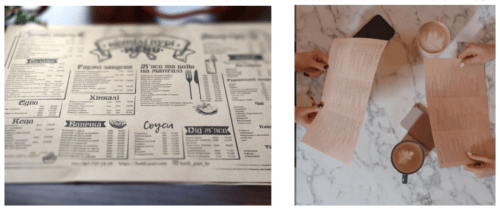 Like Figure 2, this is an easy way to save a lot of space and reduce clutter! Not all tabletops have enough space for square meal coupons, and for a crowded restaurant, receiving a menu is a waste of time. Using paper dinner labels as table paper can reduce many problems. Guests can easily pick it up and use it as a tablecloth when finished.
Usually, these types of meal cards are printed on the most economical paper because they are disposable and consume countless quantities each day. Usually 80 grams of book paper or pink paper is used.
3. Triangular upright menu
If you want to post promotions on the table, such as promotions and limited discounts on dishes, the triangular vertical meal card is the best choice.
Folded up like this, the triangular design can easily stand on a tabletop and can be placed anywhere.
Triangular upright meal cards will be made of hard paper cards, such as 300g dumb plastic card, 300g white card, etc. Such a heavy card stock is chosen because too light cards will not stand stably and will feel light and airy when held by guests.
Four, book menu
If you have a lot of dishes, you'll want to combine the menu, wine list, packaging, and other items into a set of cards.
If the recipe is the same thickness as the book, saddle stitch binding and hardcover are usually more often used.

Binding like a book is a good choice.
Most restaurants that use books and magazines are mid to high-end restaurants, mainly because they come in a variety of styles, plus they are designed to give customers a feeling of exclusivity and expensive. It is recommended to use copper nails to make dinner plates, so that the inner pages can be added or removed at will according to the season or festival.
If the restaurant is at an intermediate level, 350g-400g powder paper can be used as the cover, and 157g powder paper can be used to print the inner pages. If you want to be different, the cover can be printed on special paper.
Most first-class restaurants use PU leather and cardboard for the cover, and guests will feel its weight when holding it. The inner pages are also copper nails for easy assembly and disassembly. Paper can be printed on special paper such as earth paper, rice white card and kraft paper.
5. Large-scale menu outside the restaurant
If you want guests to see your dining card on the window or wall, you can choose to stick a sticker or Foamboard on the glass or wall. White background car stickers or detachable PVC stickers can be used to stick glass, both of which won't damage the glass and are easy to peel and stick.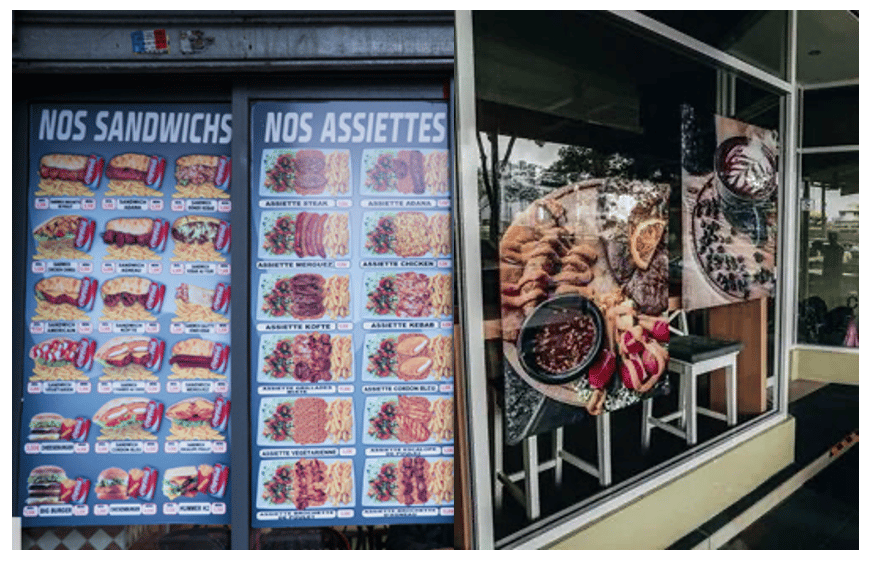 The look and feel of the pvc hard board as shown in the figure is very good.
If it is attached to the inner wall, you can use or PVC board to make the meal card. You just need to install the staples on the wall.
Whether you're looking for takeout paper/promotional slips, paper table slips, triangular table cards, book recipes or restaurant stand-up menus, you canHK Design Profound. We have a range of menu prints at different prices, either premium or regular. Whether it's orders, seasonal or packaging menus, or even price lists and product catalogs, we can print and design them for you. hopeHK Design ProCan help you design your favorite menu!
Frequently Asked Questions
1) The positioning of the dishes should be clear;
2) There should not be too many psychological tactics, the real presentation is more important;
3) Guaranteed clear pictures;
4) Physical photos, try to refuse "pictures are for reference only";
5) The name of the dish must be distinctive.
Canva, Adobe Express, Fireworks, etc. are all available for free online download.
Take the 300 gsm dual-pink card as an example, there are two types: A3 and A4:
A3
| quantity | PRICE |
| --- | --- |
| 5 sheets | $59 |
| 10 sheets | $99 |
| 20 sheets | $179 |
| 30 sheets | $249 |
A4
| quantity | PRICE |
| --- | --- |
| 5 sheets | $99 |
| 10 sheets | $139 |
| 20 sheets | $249 |
| 30 sheets | $339 |