Commonly used book binding methods
(1) Saddle stitching
saddle stitchThe pages are only connected by two iron wire nails, and the fastness is poor because the iron wire is easy to rust. It is suitable for ordering books with less than 6 sheets.
(2) Flat order
Because the iron wire is easy to rust and the pages are loose, it is now rarely used. In addition, the side-stitching must occupy a certain width of the stitching opening, so that the pages can only be in the form of "not fully opened", and the booklet is too thick to be easily read. Generally, it is suitable for books and periodicals under 400 pages.
(3) Lock thread order
It is also called string binding. Although the book block is relatively firm, the flatness is poor due to the large number of binding lines on the back of the book.
(4) Wireless glue binding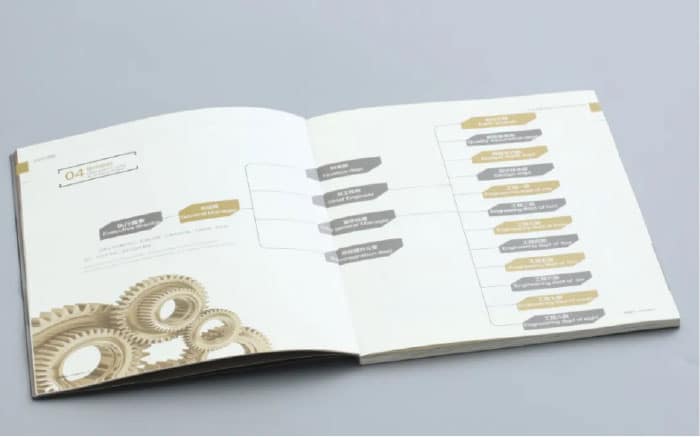 Also called glue back binding, glue binding. Because of its good flatness, at present, a large number of books and periodicals use this binding method. However, because there is no corresponding industry standard or national standard for the quality of hot-melt adhesive, and the usage method is not standardized, the quality of glue-bound books has not yet reached a satisfactory level.
(5) stitching glue backing
It is also called stitching glue binding. When binding, each signature is first stitched and then glued, and the back is not milled when gluing. The book bound by this binding method is strong and flat, and there are many books that use this method at present.
(6) Ironing with plastic lines
This is a relatively advanced binding method, which is characterized in that the signatures in the book block are bonded twice. The first bonding is to bond the plastic thread binding feet to the signature paper, so that the pages in the signature can be fixed. ; The second bonding is to bond the book block ironed with plastic wire into a book block through wireless glue binding. The book block made by this method is very strong, and because there is no need to mill the back and burr, it reduces the impact of poor glue on the binding quality. Impact.